Buying or selling a home can be a long process. An important part of that process is the home inspection where a professional makes sure everything in the house is functioning properly and identifies needed repairs. We outlined our top reasons why you don't want to skip over this step.
Home Inspections For Buyers
In the case of the buyer it often takes months searching for the right home before an offer is made. Once an offer is made and accepted, there are several more hoops to jump through before the sale closes. One such hoop, so to speak, is the home inspection. However, it's not so much a hoop as it is an absolute necessity. It is the responsibility of the buyer to pay the cost of a home inspection. Keep in mind that a buyer does have the right to waive having a home inspection done, but that's not a good idea. Our agents at Amherst Madison make a home inspection a vital part of the home-buying process. This goes for both the purchase of a pre-owned home as well as new construction.
"Our goal is to provide our clients with an unbiased, third-party inspection of the property they're looking to purchase. We recommend that all buyers have an inspection performed by a
certified inspection company so they feel confident and informed on their decision." – Logan Kimball, owner of Treasure Valley Home Inspectors in Boise, Idaho.
The Inspector Sees The Unseen
A decision to buy a home is typically based on features a buyer can visibly see. While the home may look to be in excellent condition, real problems might go unseen. The need for an inspector to climb into the attic and inch around in the crawl space is to detect potential problems in areas of the house that go unseen. The inspector can discover real and potentially expensive problems that are not always apparent when you view the home with a real estate agent. It is easy to get caught up in the appeal of fresh paint and new carpet. A complete, thorough, and unbiased home inspection can provide written proof of a home's true condition inside and out.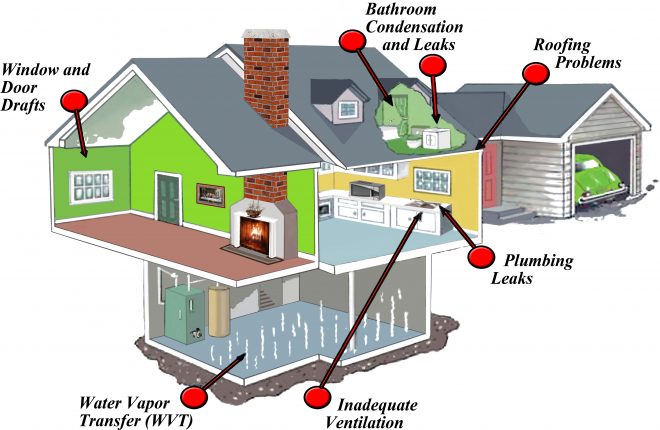 Unseen and Unpredicted problems which can be detected by a proper home inspection. Image via EnviroShield
Transactional Flexibility
When the buyer and the seller reach an agreement on the home, some legal obligation exists in order to finalize the sale. A home inspection can provide legitimate reasons for exiting a real estate transaction. Once the home inspector completes a report, there is an opportunity for a buyer to renegotiate with the seller. Certain items in the home may need repaired, or the buyer might seek to have the cost of the home reduced. If an agreement is not reached on the items in the report, the buyer can back out of the deal. The National Association of Realtors conducted a survey that determined that 14% of sales are not finalized due to discoveries made in the home inspection. This is the third largest reason for failed real estate transactions.
Structural Integrity
The home inspector will look at the foundation and other structural elements of the house. If the house is not structurally sound, the inspection report will identify the problems. Structural problems are major red flags when buying a house. Structural problems are not always linked to build quality. The need for inspections is even more important in areas where the geographic environment itself can bring challenges. Here in Idaho we are not strangers to earthquakes, landslides, groundwater drainage issues and more. An inspector that has worked in the local area long enough to identify patterns and reoccurring problems due to the local environment is a huge plus.
Home Longevity
A safe roof overhead is the essence of what we define as shelter. The longevity of a home can be largely measured by examining the condition of its roof. A new roof can cost $10,000 or more to replace and is one of the more expensive maintenance costs of owning a home. The inspector will look at the roof and identify the roof's age in order to decide whether it is in proper working order. Faulty gutter and drainage can also be the cause of major internal damage either internally or potentially to come in the near future. Proper ventilation, duct work, heat and fan exhaust, and even dryer vents are carefully examined for correct operation, condition, and long term utility. A high quality home inspection report will point out any of these related problems.
Safe Living
An important part of the home inspection is to make sure the home is safe for every day living. The inspector will look at the electrical system, plumbing, doors, locks, and windows to insure it is all in proper working order. Overall safe living conditions offer an unspoken peace of mind. An additional component to home inspection can be further testing for mold, gas leaks, radon, or carbon dioxide. If you choose to get a radon test, you will understand if the radon levels in the house are safe. Radon is a naturally occurring odorless gas which can cause lung disease and cancer.
A very important regional factor to keep in mind when considering your home inspection is the actual inspection company you choose to work with. The state of Idaho has no current regulation for the level of service, quality, certificates, or licensing of home inspectors. That means that the inspection checklist and documentation from one inspector might be completely different and lacking than one certified by a nationally accredited association.
"In a state like Idaho, home inspectors are unregulated. We recommend everyone looks into the type of company they use when it comes to their inspection. At Treasure Valley Home Inspectors, we're professionally certified by the International Association of Certified home Inspectors, or InterNACHI. Associations like this allow us to stay up to date on industry standards as well as provide continuing education for our inspectors and peace of mind for our clients." – Logan Kimball, owner of Treasure Valley Home Inspectors in Boise, Idaho.
Why Sellers Should Consider A Pre-Inspection
A serious home buyer is traditionally the party that initiates a home inspection. Uncovering any potential problems before signing on the dotted line is critical while there's still time to negotiate. We want to take this a step further by sharing how a seller might benefit by having their home inspected before they even put it on the market. We think the following three points offer up compelling motivation to consider a pre-inspection.
Transparency In The Transaction
A pre-inspection is a voluntary gesture. It demonstrates a willingness to go beyond the usual listing presentation, and that sets a real estate listing apart from other sellers. Sellers can send a clear signal that their house is an "open book." This upfront approach not only adds a higher level of transparency but also efficiency to the transaction. The accuracy of the information detailed in the listing is essentially backed up by the pre-inspection report. Altogether this gives buyers and real estate investors peace of mind and confidence. 
Long Term Money Savings
A pre-inspection provides the seller, advanced notice of any problems that a potential buyer will likely want repaired. Once these problems are known, those issues can then be fixed before the home is listed. The cleaner and more problem-free a home is, the faster it is likely to sell.
What You Don't Know Can Hurt You
A pre-inspection lets buyers know what they're getting from the beginning. They can calculate any needed repairs into an offer. By disclosing all known issues upfront, the seller is protected against claims the buyer might make. This in turn lowers the risk of legal action down the road.
Consider the case of not having a pre-inspection. During escrow, the buyer's inspector discovers problems the seller didn't know about. This is a common situation where the buyer will try to negotiate a lower price, which will cost a seller money and can delay the close of the transaction. Potentially, as mentioned above in our buyer section, the buyer might even cancel the contract all together.